Our Mission:
At North Country Auto Body & Mechanical, we promise to provide the highest quality repairs in a timely manner as well as a customer-friendly experience.  Exceptional Repairs – Exception Service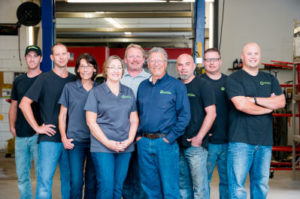 About North Country
North Country Auto Body & Mechanical is the premier auto repair shop in the northeast metro area. We are well-known for exceptional automotive repairs and services and employ a Dream Team of ethical, skilled, and innovative professionals who love helping others.
We repair all passenger vehicles and light-duty trucks with our state-of-the-art equipment. In addition to serving the public, we also have a number of corporate accounts with businesses and dealerships.
We build strong relationships with our customers, and they return for all of their automotive needs and refer us enthusiastically to everyone they know!
Galen and Susan Carlson co-founded North Country Auto Body & Mechanical with partner Rich Ober in Hugo in 1993 and have served Hugo and surrounding communities ever since. Our faith informs our decisions and actions and our foundational values remain the same: a commitment to high ethical standards, high quality repairs, and helping people based on their needs. Please allow us the privilege of serving you.
At North Country, our mission is to consistently provide exceptional customer experiences and repairs. Our core values include:
Running an ethical business that never pushes customers to purchase anything they don't need
Creating a healthy, respectful team of professionals who listen, learn, and work well together
Providing our customers with the highest quality skills and services
Seeking innovative solutions
Helping our customers by providing honest, safe repairs on time
Virtual Tour
Meet the North Country Auto Dream Team!
We are proud to have a team of ethical, skilled, and innovative professionals who are committed to helping our customers and each other.
Galen, Owner/President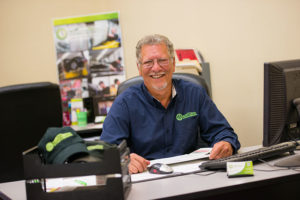 Galen trained as a tech at San Diego City College and worked in the industry for 20 years before founding North Country in February 1993. He loves being involved in all aspects of running this independent auto repair shop. Four of Galen's top five strengths involve relationship building, which is great for creating team synergy and providing our customers with the services they need to get their vehicles on the road again in beautiful and safe condition. Galen's pride and joy is his favorite (and only) grandchild.
Little-known fact: Galen was the recipient of the first annual Emil Stanley Merit Award in 1990 for the highest test score in the nation. The scholarship is awarded annually to an individual who works in an Automotive Service Association (ASA) Collision Division member-business who displays a desire to improve their business skills through management education.

Susan, Owner/Marketing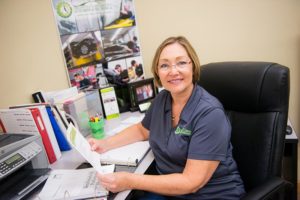 Susan has a background in administrative support in accounting, insurance, and higher education which fueled her passion for organizational leadership. She applies her strengths in the areas of marketing and strategic planning on behalf of North Country, encouraging the team to look for opportunities for improvements that will help both the business and everyone connected to it. Susan's favorite pastimes are hanging out with family, walking, bicycling, and exploring places new and old.
Little-known fact: Susan went back to school after the kids were grown to complete a BA (2008) and an MA in Organizational Leadership (2013) at Bethel University.

Lou, Manager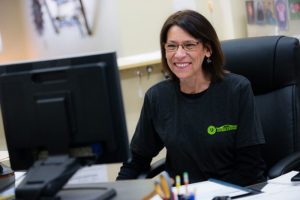 Lou keeps the paperwork in order, the numbers crunched, and the front office running smoothly. She has a heart for helping others and is attentive to customer and staff needs. It's no wonder that she holds everything together: she once worked for that famous company known for snapping building blocks together to build cool things. (Think begins with an "L" and ends with a "go")! Lou has a green thumb when it comes to growing flowers, and she loves to spend time with her grandkids – even when they drive her slightly crazy.
Little-known fact: Lou is Galen's little sister so she knows how to keep him in line…and vice versa!

Steve A., Estimator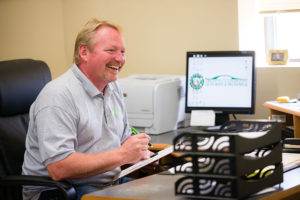 Steve hails from North Dakota, where he got an early introduction to life in the industry at his father's body shop and has worked in the auto industry his entire career. His resume includes combination body/paint technician, insurance company adjuster, and body shop estimator. Steve really understands the ins and outs of both the administrative and technical repair and refinish processes. He enjoys hunting, fishing, and coming across bears in the woods on his ATV.
Little-known fact: If you want to see Steve smile, just ask about the latest addition to his family. Hint: Steve's newest title is Grandpa!

Mark, Shop Supervisor/Refinish Technician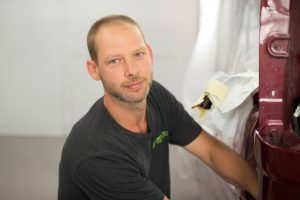 Mark has been with North Country since our doors opened. He is happy when painting vehicles and strives for perfection with each refinish job. Mark's motto is "Do it right the first time," and his commitment to production efficiencies is one reason why he makes a great shop supervisor. He assures that our customers get back on the road ASAP with their vehicle restored to pre-accident condition – or better! Mark enjoys fishing with his family and home improvement projects.
Little-known fact: Mark followed in Galen's footsteps as a painter AND as the father of awesome twins.

Chad, Auto Body Technician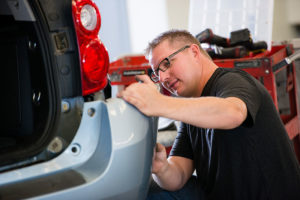 Chad has been around the block a time or two with 30+ years' experience, including early years in his dad's shop. He trained at South Central Technical College and is I-CAR certified. Chad is experienced in refinishing as well as collision repair and street rods. He also tends toward perfectionism with an eye for details. Chad enjoys drag racing and watching his kids play ball.
Little-known fact: Chad has the strength of Ideation and is always coming up with new ways of doing things. He also likes to get creative with interior design projects, as evidenced at North Country with our tin, wood trim and other projects.

Additional Staff:
Zac, Auto Body Technician
A Legacy of Hard Work and Integrity: Our Owner's Story
North Country Owner and President, Galen Carlson, came to the Twin Cities from the family farm in South Dakota. Although he started out working with his father, uncles, and cousins as house painting contractors, Galen discovered his passion for working on cars as a teenager. His first auto body experience was memorable because it occurred after he launched his dad's old Ford off a snowy St. Paul street onto a fire hydrant when he was not supposed to be driving. Hours later, Galen was dismantling the car in their backyard on Lexington Avenue and putting it back together again, all under Dad's scrutiny and with typical farmer DIY gusto!
Galen graduated from Central High School and achieved formal training at San Diego City College. After several years' experience as a painter, body tech, and shop foreman, close friend Rich encouraged Galen to open a shop of his own. Galen and his wife, Susan, are proud to provide rewarding jobs to local residents and skilled services to the community.
In 2020, Mark became a Partner in North Country Auto Body,  Mark has been with the company from the very beginning.
The Story of the North Country Property
North Country was originally surrounded by corn fields and existed before Bald Eagle Industrial Park was developed. Our street was unpaved, and the city of Hugo's administrative offices operated out of a trailer under the water tower near the historic feed mill. In spite of its humble beginnings, we could see that residential growth was soon to come to this beautiful rural area north of St. Paul, and our goal was to be the go-to shop for the automotive needs of people in and around Hugo.
In 2004 we tripled our square footage so that we had the space to reach our full potential. Come visit our beautiful facility today and learn how we can help you!
You can count on our team to treat you – and your vehicle – with integrity and care. Call us today to schedule your FREE estimate! 651.429.3899
FREE LIGHT INSPECTION!
Help others see you! Stop in for a free check!
GIVE US A REVIEW!
Have feedback? Click here to review us on our Google+ page!