Auto Resource Center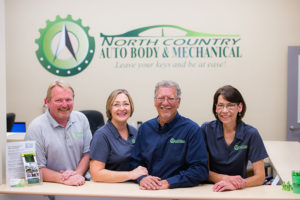 North Country Auto Body & Mechanical is a proud member of the Alliance of Automotive Service Professionals of Minnesota (AASP-MN). Below you will find links to information on their website as well as other information we hope you find helpful.
We are happy to answer any questions you have personally so don't hesitate to call us at 651.429.3849 or stop in.
North Country – Helping You Navigate Insurance Claims
When an accident occurs, it can be stressful to understand the role and limitations of your insurance company. At North Country, we're committed to making this process simple for you. Here is some information to help you navigate the process, but feel free to call anytime with questions!. We're here to help make a major inconvenience less worrisome for you!
You choose the repair facility. You have a legal right have your vehicle repaired at the facility of your choice and are not required to go to a shop your insurer recommends. Let your insurer know which facility you choose when you call to file the claim.
State-of-the-Art estimating. We always provide an honest, free, itemized estimate using top quality industry-approved digital estimating software. Our expertise in being the go-between for you and your insurance company makes the process convenient and efficient.
Estimates vary. While estimates from different shops will vary, a reputable shop will work on your behalf while staying within insurance company guidelines and requirements that protect you. Our professional claims handling means that we work closely with you and your insurer to return your car to its pre-accident condition or better as quickly as possible. We never sacrifice safety and aesthetics for inferior repairs and refinishing.
My insurance company requires more than one estimate. If they require more than two, they must pay for each additional estimate. They also can't require unreasonable travel for you to obtain an estimate.
Your deductible. While we cannot adjust estimates to absorb your deductible (to do so would be fraud), you may opt-out of specific repairs before we begin working on your vehicle in order to lower the cost of your final bill.
OEM parts. Your insurance company is required to pay for original equipment manufacturer (OEM) parts unless those parts were not original at the time of the accident.
Free loaner or rental cars available onsite. You have access to a loaner car from North Country at no cost while we fix your vehicle. You also have access to a rental vehicle when you drop off your vehicle for collision repair if you have rental car coverage or were not responsible for the accident.
Helpful Links to Consumer Automotive Service Information
Do you need more information but are not sure where to go? Check out these helpful resources from the Alliance of Automotive Service Professionals of Minnesota! (AASP-MN)
At North Country, we work closely with you to assess your – and your vehicle's – needs. Call us today for more information or to schedule your FREE estimate! 651.429.3899
FREE LIGHT INSPECTION!
Help others see you! Stop in for a free check!
GIVE US A REVIEW!
Have feedback? Click here to review us on our Google+ page!